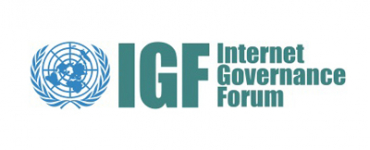 The 3rd German-Arab Forum on the Digital Economy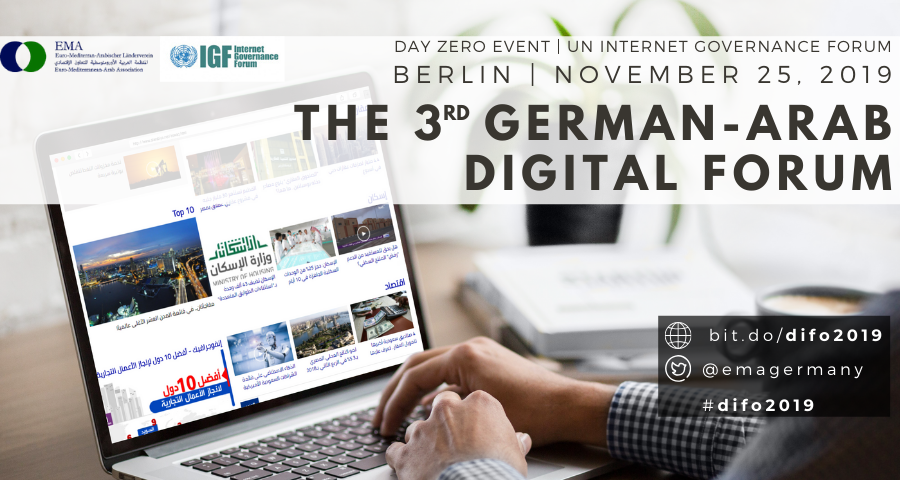 November 25, 2019
13:45 to 15:40
Estrel Congress Center, Saal A, Sonnenallee 225, 12057 Berlin
On November 25, the EMA will shed light on the issues of digitization and digital transformation in the Mediterranean and Middle East region as part of the Internet Governance Forum initiated by the UN in Berlin. We cordially invite you to inform yourself about developments in the IT sector in the Arab world, to share your experience with other participants, and to establish relationships with business partners.
The 3rd German-Arab Digital Forum
November 25, 2019 | 1:45 pm – 3:40 pm
Estrel Congress Center, Saal A, Sonnenallee 225, 12057 Berlin
Conference Language: English*
* If necessary, translation will be provided by the organizers for French and/or Arabic.
Growth rates in the digital economy in the Mediterranean and Middle East regions continue to be high. Telecom and Internet providers have worked tirelessly on increasing bandwidth capacities to 4G and more. But there are differences between the countries in the region. While Internet penetration in the small Arab Gulf countries is at a record high of more than 90 percent, figures in North African countries such as Egypt, Morocco, and Tunisia range between 44 and 65 percent.
The geographical proximity to Europe, small to no time differences, and the potential for qualified workers put especially North Africa at a competitive advantage. It is against this background that start-up scenes have developed in many Arab countries. No matter if education, healthcare, financial services, fashion or transport & logistics: start-ups in the Mediterranean and Middle East region make smart use of digitization in a variety of business sectors.
The 3rd German-Arab Digital Forum sheds light on the digital transformation in the region. It combines the issues of sustainability and digitization by addressing two core topics – empowerment and artificial intelligence (AI) – as well as the question of how the expansion of the information and communication technology (ICT) sector increases job creation and perspectives for young people in those countries. It aims thusly to highlight success stories and best practice examples and intends to sensitize relevant stakeholders and actors for a sustainable dialog with the region.
The Forum is directed at economic, political, and civil society decision-makers and multipliers from all countries in the Mediterranean and Middle East region including the member states of the Arab League and of the European Union in addition to the other countries bordering the Mediterranean Sea. It aims to highlight the diversity of different perspectives especially regarding social start-ups and female entrepreneurs. Furthermore, the Forum wishes to bring political decision-makers from the mentioned region in contact with representatives of start-ups, associations, and the digital economy at large.
2019-11-25 13:45
2019-11-25 15:40
Europe/London
The 3rd German-Arab Forum on the Digital Economy
Estrel Congress Center, Saal A, Sonnenallee 225, 12057 Berlin
save event to calendar