Last updated: February 8, 2023
The People's Democratic Republic of Algeria is nestled between the Mediterranean Sea and the Sahara Desert in the western part of the Arab world. With an area of around 2.2 million square kilometers, Algeria is the largest country in Africa in terms of surface area and about six times the size of Germany. With over 44 million inhabitants, it is the third most populous Arab country after Egypt and Sudan. The capital, Algiers, is located in the north directly on the coast.
In December 2019, former Prime Minister Abdelmadjid Tebboune was elected president. The election was triggered by ongoing protests and the so-called Hirak movement, which advocates for change, transparency and accountability. Tebboune promised a "New Algerian Republic." Early parliamentary elections were held in June 2021, which Tebboune's party won.
An association agreement between the EU and Algeria has been in place since 2005. In 2017, the EU and Algeria adopted new partnership priorities under the renewed European Neighborhood Policy. Algeria is rich in oil and gas and has used its wealth to create economic growth. The government is promoting the diversification of the national economy with, among other things, sustainable environmental policies and the promotion of environmentally friendly technologies and innovations. In addition, the country is rich in young start-up founding entrepreneurs who innovate the market and incentives for investment in the private sector. The new investments law (2022) aims to increase Algeria's attractiveness to foreign investors. Anchored measures include bundled and simplified investment guarantees and incentives, and the establishment of a one-stop store. The new investment promotion agency, AAPI, has also replaced the long-standing development agency ANDI.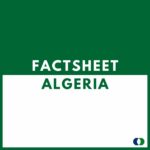 Algeria imports mainly food, machinery and chemical products and exports gas, oil and petroleum products in return. In the years before the Covid 19 pandemic, the construction sector and the transport and logistics sector had grown particularly strongly, each by well over four percent. In bilateral trade, Germany recorded an export surplus of around 1.85 billion euros in 2021, up from 1.07 billion euros the previous year. More than 200 German companies are active in Algeria. Germany ranked fifth among the most important supplier countries in 2020.