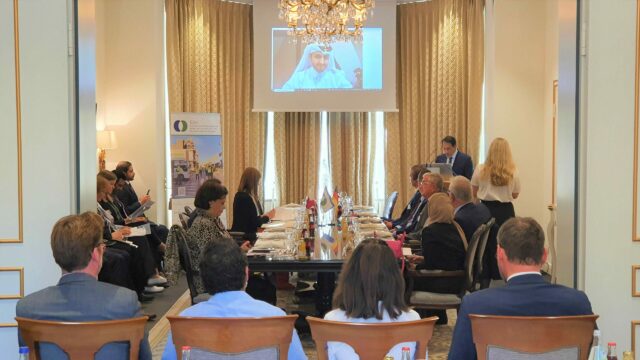 From Green Energy to the 2022 Football World Cup: Qatar as a "Proud Partner for Long-Term Success"
Together with the Embassy of the State of Qatar in Germany, the EMA organized its first in-person event since the start of the Covid-19 pandemic, the Salon Diplomatique Qatar, at the beautiful Arabic Cultural House – The Divan in Berlin on September 22, 2021. In front of around 40 businessmen and -women, H.E. Abdulla bin Mohammed Al-Thani, Ambassador of the State of Qatar, and H.E. Sheikh Ali Alwaleed Al-Thani, CEO of the Investment Promotion Agency (IPA) Qatar, presented the potentials of economic cooperation between Qatar and Germany. Qatar's focus is primarily on the energy and infrastructure sectors.
In her welcoming words, EMA Secretary General Clara Gruitrooy pointed out that this Salon Diplomatique Qatar was already the third one within four years hinting at the enormous importance of the Qatari economy for German companies.

Qatar's Economic Potential: Favourable Growth Forecast
In his keynote speech, H.E. Abdulla bin Mohammed Al-Thani used this impetus as a transition to provide a snapshot of economic development, stability, and promising prospects in Qatar, which will celebrate its 50th anniversary of independence in December. According to the latest IMF reports, economic growth is expected to reach 2.4 percent in 2021, followed by a strong upswing of 3.6 to four percent in 2022, stressed the Ambassador, who took up his post in Berlin only last year.
In support of his argument regarding Qatar's economic potential, His Excellency cited specific investments made in recent years in infrastructure – stadiums, highways, airports, and ports. These include, for example, government investments of $17 billion in the tourism industry over the next five years.
The Ambassador also stressed that the German-Qatari partnership should continue to grow in the future. After all, he said, Qatar is one of the largest foreign investors in Germany with significant holdings in German companies. Qatar professes to be a 'proud partner for long-term success'.

Broad Spectrum for German Investments
Following the Ambassador's keynote speech, the CEO of IPA Qatar, H.E. Sheikh Ali Alwaleed Al-Thani, who joined the event virtually from Doha, referred to Qatar's commitment to promoting and pursuing its own economic development goals. Given the rapid development of a business-friendly ecosystem, Qatar has a wide range of opportunities to offer to German investments, he said.
Qatar's geographic location, which serves as a "gateway between East and West, connecting Africa, Asia, and Europe," favours investments according to Sheikh Ali Alwaleed Al-Thani. "Over 300 companies, including 16 companies approved on the 'Upper Financial Center Platform', are managing operations and contributing to national mega projects such as the 2022 World Cup", he explained.
In addition, the CEO of IPA Qatar mentioned that Qatar offers opportunities for investments in sustainability and has made it a priority as a new guiding principle of national strategies. He added that a new 'Environmental Social Governance (ESG)' strategy is also to be announced, which will include increased engagement and more concrete targets to address climate change.

Green Hydrogen and Sustainability Targets
In the question and discussion session that followed, the participants were particularly interested in topics such as sustainability, health, energy, infrastructure, and the empowerment of women in leadership positions. As the world's largest exporter of liquefied natural gas (LNG), for example, Qatar is also in the spotlight with the question of a hydrogen-based economy. It could help combat global climate change and air pollution as a prominent clean energy source, H.E. Sheikh Ali Alwaleed Al-Thani said in response to a question from the audience. This is in line with the National Vision 2030, published in 2008, which aims to achieve sustainable development and environmental protection.
However, he said there are still 'some obstacles', such as the cost of producing hydrogen on a large scale or storing and distributing it, on the road to more sustainable energy production. Because Qatar has a very diverse portfolio of hydrocarbons, it sees hydrogen as an alternative energy source. It is "a constant topic of conversation on how Qatar wants to move forward in the green energy sector", the Ambassador added. After all, 30 percent of the country's energy supply is still provided by coal.

Support for the Health Industry and a Sustainable Football World Cup
When asked about the health sector and its role during the pandemic, H.E. Abdulla bin Mohammed Al-Thani stressed the importance of continued financial support for research funding. Furthermore, the upcoming 2022 World Cup in Qatar was addressed. Both the Ambassador and H.E Sheikh Ali referred to Qatar's plans, which include the sustainable use of stadiums and resources even after the final in December 2022. Finally, both speakers advocated for the empowerment of women in business.
At the end of the event, the guests had the opportunity to talk about potential cooperation with each other and with representatives of the Embassy of the State of Qatar over a Middle Eastern dinner in the exclusive premises of the Arabic Cultural House.