Clara Gruitrooy
The Secretary General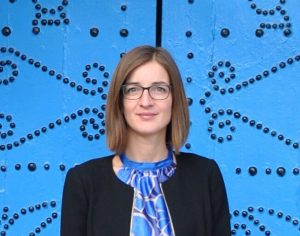 Clara Gruitrooy, born in 1982, studied international law in Paris and Potsdam. In the course of her consecutive master's degree in "intercultural conflict management", she concentrated on the pressing issues in the Euro-Mediterranean region.
Ms. Gruitrooy has been campaigning for the establishment of the recently founded EMA country association since 2009, which she led as managing director until she was elected Secretary General. Before that, she completed a stay abroad at the German embassy in Morocco and worked in the "International Dialog" department at the Friedrich-Ebert-Stiftung.
Already in the founding years of the national association, Ms. Gruitrooy put special emphasis and gave the EMA a formative role in German-Arab cooperation. The German-Arab network of women entrepreneurs she initiated and the " Ouissal " mentoring program carried out with the federal government have long since become a central pillar of the work of the regional association.
Ms. Gruitrooy has received several awards for her commitment, including the nomination "Emotion impulse giver of the year" in January 2014 and the award "Germany, Land of Ideas" in November 2016. In January 2017 she was a scholarship holder of the Asian Forum on Global Governance (AFGG ).
"As Secretary General, I would like to continue the more important work of the EMA in a result-oriented manner and with committed board members, members and partners and to initiate further successful projects in the Euro-Mediterranean-Arab region."
Clara Gruitrooy stands for a partnership approach, professionalism and diplomatic skills. Regular training in good club management and the further training course "NPO Management" 2017 round off her many years of practical experience.