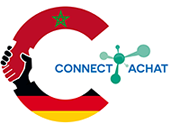 Chamber and Association Partnership Project Morocco
Morocco's economy is characterized by stable high growth rates and low inflation. Also due to its geographical location, good infrastructure and low labor costs, Morocco represents the most competitive country in North Africa. Nevertheless, the number of German buyers investing in Morocco has been low so far.
In order to bring German and Moroccan business closer together, the German Federal Ministry for Economic Cooperation and Development, through sequa gGmbH, is funding the chamber and association project "Materials Purchasing and Supply Chain Management for Industrial Companies in Morocco", which will be implemented by BME and EMA on the German side and AMCA (purchasing), AMICA (automotive) and ASMEX (export) on the Moroccan side, initially from 2017 to 2020. In this project, the Moroccan partner associations will be brought closer to German structures and their consulting services will also be expanded for German buyers, supply chain managers and logisticians.
The aim of this CIP project is to strengthen the competitiveness and international orientation of Moroccan companies by expanding the competencies and structures of the three Moroccan partner associations. They will thus become demand-driven intermediaries and actors for an internationalization of their member companies along the cross-border supply chains.
In this pilot project, an institutional network of chambers of commerce and industrial associations is familiarized with German structures and Moroccan private enterprise is given sustainable support in its entrepreneurial activities. SMEs in particular benefit from the services offered as part of the project. No Moroccan or other Arab associations are yet represented in the International Federation for Purchasing and Supply Management (IFPSM), which shows that the topic of purchasing, procurement and supply chain management can still be successfully and sustainably positioned here.