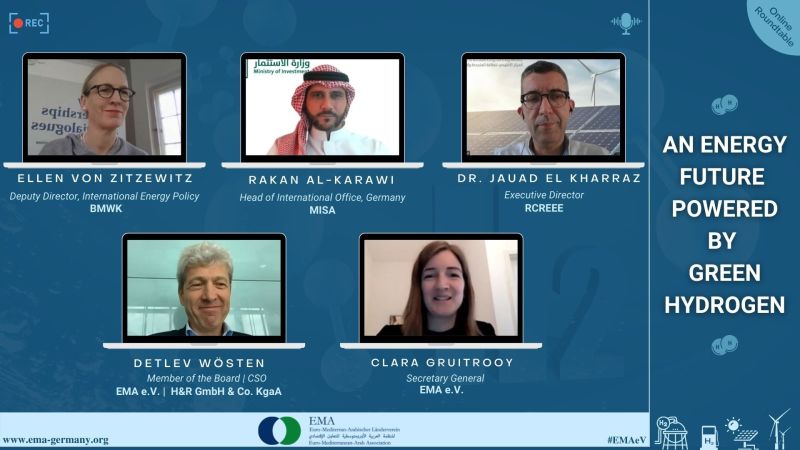 The EMA would like to express our utmost gratitude to all the participants and the speakers of the online roundtable – Ellen von Zitzewitz (Federal Ministry for Economics and Climate Action), Rakan Al-Karawi (Ministry of Investment, Saudi Arabia), Dr. Jauad El Kharraz (Regional Center for Renewable Energy and Energy Efficiency (RCREEE)) &  Detlev Woesten (H&R GmbH & Co KgaA), who contributed to the fruitful discussion in our online roundtable on Green Hydrogen  Your engagement in the online roundtable helped us once again to expand our mission!
Last week, the EMA brought together experts from the government, the private sector, and the civil society from Germany and MENA region. The online roundtable focused on strengthening the Green Hydrogen industrial and research cooperation projects, investment opportunities, and business infrastructure in the MENA region, particularly in Saudi Arabia, Egypt, Germany, Oman, and Morocco. To learn more about the event, you can read the event report from the link below.
The EMA team is looking forward to welcoming you to our upcoming events!