The Mediterranean Summit is the key event in Germany for the interregional and interdisciplinary dialog of experts and promoters of the Mediterranean.
The Summit brings together high-level representatives and stakeholders from Europe and the Mediterranean region from the fields of diplomacy, private sector businesses, politics, academia, and civil society to discuss new opportunities for enhanced regional cooperation and sustainable development. Thus, the Summit promotes the much-needed partnership among the economies of the southern shore and between the northern and the southern shores.
In a world of growing turmoil and uncertainty, more than ever, this exclusive platform for a renewed partnership between the two shores of the Mediterranean raises awareness among various stakeholders about current affairs and developments in the Mediterranean region.
Furthermore, the Summit provides you with up-to-date information and insights on investment opportunities, market exploration, strategic projects, and business cases and facilitates your access to relevant decision-makers, associations, and chambers of commerce throughout the Mediterranean region.
August 28, 2019

5:00 pm to 9:00 pm

Haus der Commerzbank, Pariser Platz 1, 10117 Berlin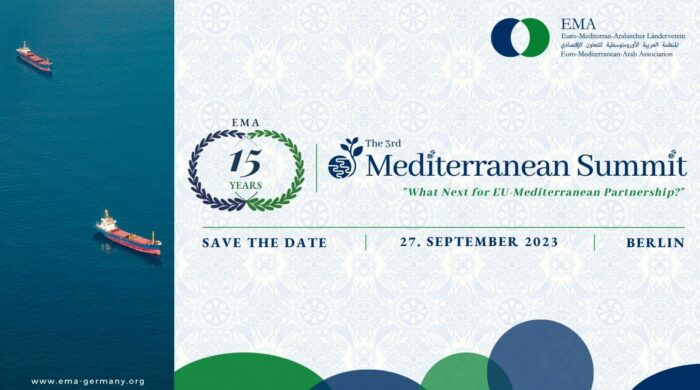 September 27, 2023

18.00 o'clock

Allianz Forum, Pariser Platz 6, 10117 Berlin