The Program
The Arabic word Ouissal means "bridge" or "connection", reflecting the objective of the German-Arab Mentoring Program: connecting female entrepreneurs in the context of common learning processes and intercultural exchange.
Initiated by the Euro-Mediterranean-Arab Association (EMA e.V.) and sponsored by the Federal Ministry for Economic Cooperation and Development (BMZ), Ouissal is dedicated to supporting the socioeconomic participation of women in their home countries.
The program selects a total of 40 German, Tunisian and Moroccan female entrepreneurs who work together in tandems on the business plan or on the business development strategies of the mentee – the experienced mentor sharing her knowledge and expertise with the mentee. Furthermore, Ouissal participants get the chance to take part in the German-Arab Women Forum, which gives them access to the German-Arab Women's Network – an outstanding platform for connecting with other femal entrepreneurs and numerous partner organizations.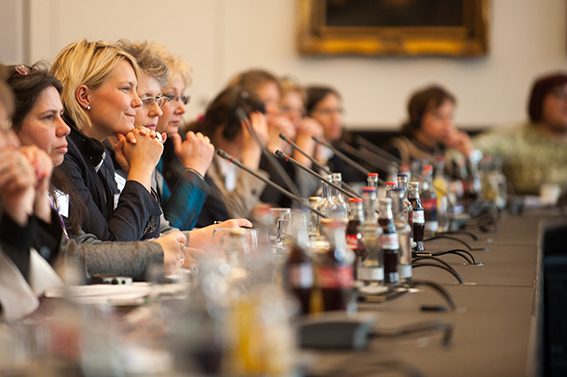 The program adresses experienced female entrepreneurs who can take part as mentor. They must meet the following criteria:
be Tunisian, Moroccan or German
be the CEO or in a leading position with a good deal of experience in management, leadership issues and business development in their particular field
be extremely interested in intercultural exchange and in actively participating in the creation of career prospects for women in the Arab world
be willing to meet dynamic young female entrepreneurs as well as share and multiply their expertise with them
By joining the program, these experienced mentors can seize the opportunity to support, during one whole year, young female entrepreneurs throughout their company's development process by working with them on their business plan or on specific aspects of their business strategies. At the same time, they will get to know other experienced and competent female mentors from different backgrounds and explore cultural and entrepreneurial particularities. With other mentors and mentees of the program, they will become part of the unique German-Arab Women's Network.
Who does the Ouissal program address?
The program addresses female entrepreneurs who can take part as mentees. They must meet the following criteria:
be Tunisian, Moroccan, or German
CEO/Founder of their own company
be advanced in their own action plan and wish to get some support to move it forward or to handle specific aspects of their company's development. (e.g.: market strategy and communication, HR management, distribution, etc)
By joining the program, mentees have the opportunity to benefit from the support of an experienced female entrepreneur and learn from her expertise over a whole year in an intercultural context. They will get to meet like-minded women and joing the broad German-Arab Women's Network.