Business Breakfast 2020 | Export to North Africa & Middle East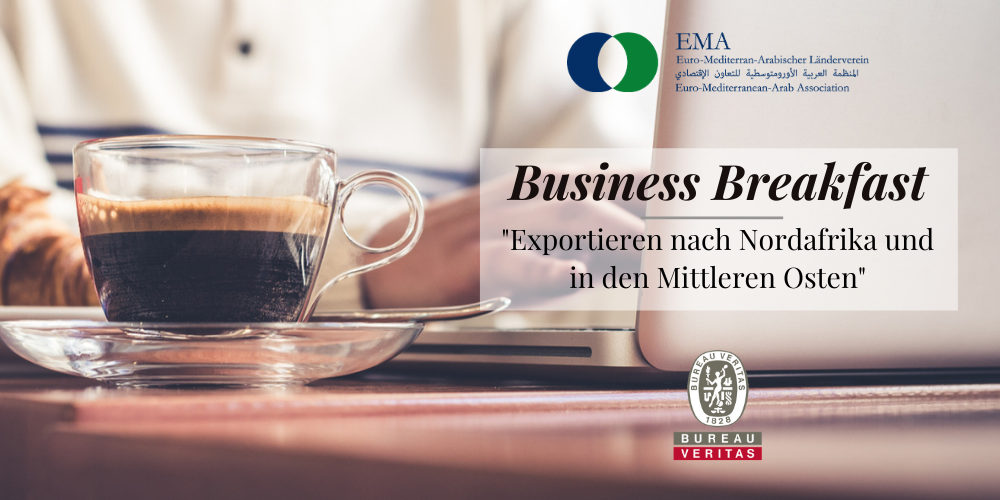 December 9, 2020
9:00 am to 10:00 am
EXPORT TO NORTH AFRICA AND MIDDLE EAST 
Together, EMA and Bureau Veritas are organizing a virtual Business Breakfast on the topic of "Exporting to North Africa and the Middle East" and will inform you about the following questions, requirements and special features for exports to the Mediterranean and Middle East region, among others:
Which role does the EMA play and how can it support international trade?
What must be considered for exports to North Africa and the Arab Gulf countries?
Which regulations exist and how can Bureau Veritas support compliance?
With Bureau Veritas, EMA has gained a partner that is active as a leading company for testing, inspection and certification. Bureau Veritas supports its customers throughout the entire life cycle of their facilities, products and infrastructure, helping them to ensure quality, reduce costs, increase productivity and promote a responsible, sustainable corporate culture.
2020-12-9 09:00
2020-12-9 10:00
Europe/London
Business Breakfast 2020 | Export to North Africa & Middle East
Zoom
save event to calendar