Djibouti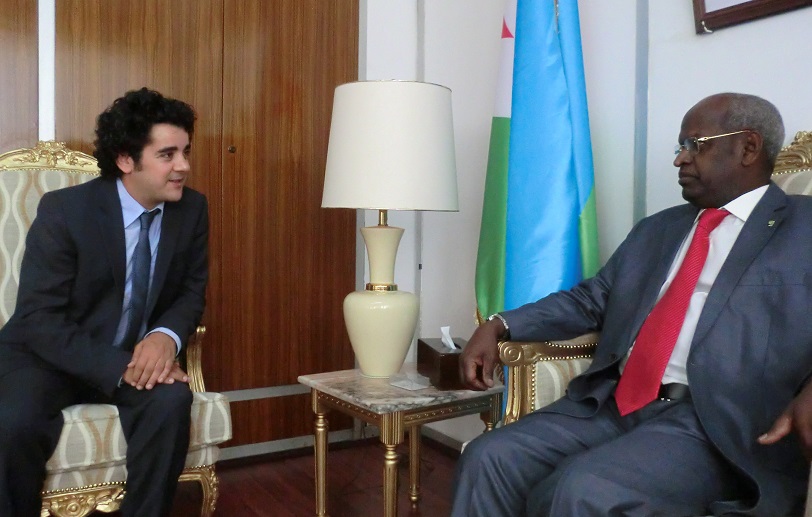 14th – 18th August 2013 in Djibouti 
The EMA organised a delegation trip for its members to the Republic of Djibouti between August 14th and 18th, 2013. Within the framework of the trip, the participants were provided with the opportunity to meet high-level representatives of the Djiboutian government and private sector. In addition to having a close look at Djibouti's economic potentials and industrial sights, the supporting programme allowed the visitors to get to know the country and its people.
At the beginning of the four-day programme, the Minister of Infrastructure and Transport, Moussa Ahmad Hassan, extended a welcome to the delegation and discussed the perspectives for different major projects in the country and the potential of the logistics sector with them. Afterwards, the President of the Djibouti Ports and Free Zones Authority invited them to have a tour through the extensive port facilities of Djibouti and Doraleh. The delegation got an impression of the high quality and efficiency of the Djiboutian port logistics and of the great commitment of the Djiboutian hosts to extend the local infrastructure with ambitious projects. 
In further meetings with members of the government such as the Minister Delegate for Trade, SMEs, Crafts, Tourism and Formalisation and the Minister of Finance, parameters of trade and investment opportunities were discussed. The director of the National Tourism Office illustrated characteristics and potentials of the Djiboutian tourism sector. In addition, the Executive of the German Embassy presented detailed information on the German-Djiboutian relationship. Particularly insightful was the visit of the Dubai Port World branch, which completed the picture of the Djiboutian port logistics.
The theme was complemented by a visit of the National Investment Agency and the Djiboutian Chamber of Commerce. Here, the exceptional advantages of Djibouti as an investment location were presented and opportunities of cooperation were discussed. Other sectors such as the financial sector, renewable energies and tourism enjoy increased attention.
Additionally, the participants enjoyed an excursion to the lake Assal, which has the highest degree of salinity in the world and counts as national treasure and important touristic attraction of Djibouti.
On the last day of the visit the delegation met the Djiboutian prime minister which illustrates the great interest in potential investors for Djibouti and constituted a successful last event of the trip.
|   La Nation, 18. August 2013
|    La Nation, 19. August 2013
|    F. Garcia, Mediterranes 2/2013, S. 50 – 52
|   B. Schumacher, Arab Forum, 3/2013, S. 46-47
|   B. Schumacher, Africa Positive, 51/2013, S. 20
   Dienstag, 13. August 2013

   18:20 Uhr

  Abflug Hamburg/Fuhlsbüttel (HAM)

   22:25 Uhr

  Ankunft Istanbul/Atatürk (IST)

   23:55 Uhr

  Abflug Istanbul/Atatürk (IST)

   Mittwoch, 14. August 2013

   05:10 Uhr

  Ankunft Dschibuti/Ambouli (JIB)

   06:00 Uhr

  Bustransfer ins Hotel, Einchecken, Gemeinsames Frühstück

   11:30 Uhr

  Gespräch mit dem Minister für Infrastruktur und Transport, S.E. Moussa Ahmed Hassan

   13:00 Uhr

  Treffen mit dem Vorsitzenden der Dschibuti Ports & Free Zone Authority, Hr. Aboubaker Omar Hadi

   14:30 – 16:00 Uhr

  Mittagessen

   16:30 Uhr

  Besichtigung der Häfen  von Dschibuti und Doraleh

   Donnerstag, 15. August 2013

   09:00 Uhr

  Treffen mit dem Beigeordneten Minister für Handel, Kleine und Mittlere Unternehmen, Handwerk, Tourismus und Formalisierung, S.E. Hassan Ahmed Boulaleh

   10:00 Uhr

  Treffen mit dem Direktor des Office National du Tourisme de Dijbouti (Nationales Tourismusbüro), Hr. Mohamed Abdillahi Waiss

   11:00 Uhr

  Treffen mit dem dschibutischen Finanzminister, S.E. Ilyas Moussa Dawaleh

   12:30 Uhr

  Treffen mit dem Geschäftsträger der deutschen Botschaft, Hr. Matthias Richter

   14:00 – 15:30 Uhr

  Mittagessen

   16:00 – 17:30 Uhr

  Hafenbesichtigung: Präsentation und Diskussion mit dem Hauptgeschäftsführer von DP World, Hr. Nawaf Nassir Abdullah

     Freitag, 16. August 2013

   09:00 Uhr

  Ausflug zum Assal See

   14:30 Uhr

  Mittagessen mit dem dschibutischen Botschafter in Berlin, S.E. Mohamed Dileita Aden und dem Geschäftsträger des deutschen Botschafters, Hr. Matthias Richter

    Samstag, 17. August 2013

   09:00 Uhr

  Treffen mit dem Direktor der Agence Nationale de Promotion de l'Investissement (Nationale Investitionsförderagentur), Hr. Mahdi Darar Obsieh

   10:00 Uhr

---

   12:00-13:00

---

   13:30

---

   16:00 – 18:00

  Treffen mit dem Präsidenten der Handelskammer, Hr. Said Omar Moussa

---

Firmenbesichtigung: Gespräch mit dem Geschäftsführer Herrn  Bourhan Mohamed Ali, Express Transit Services SARL

---

Mittagessen auf Einladung des Präsidenten der Dschibuti Ports & Free Zone Authority im Kempinski Hotel

---

Besichtigung von 2 Einkaufzentren

    Sonntag, 18. August 2013

   09:00 Uhr

  Treffen mit dem Premierminister, S.E. Abdoulkader Kamil Mohamed,

   10:00 Uhr

  Treffen mit dem vorherigen Ministerpräsidenten Dschibutis, S.E. Dileita Mohamed Dileita

   11:00 Uhr

  Bustransfer zum Flughaften

   12:15 Uhr

  Abflug Dschibuti/Ambouli (JIB)

   17:20 Uhr

  Ankunft Istanbul/Atatürk (IST)

   19:10 Uhr

  Abflug Istanbul/Atatürk (IST)

   21:15 Uhr

  Ankunft Hamburg/Fuhlsbüttel (HAM)
2013-8-14
2013-8-18
Europe/London
Djibouti
Djibouti
save event to calendar