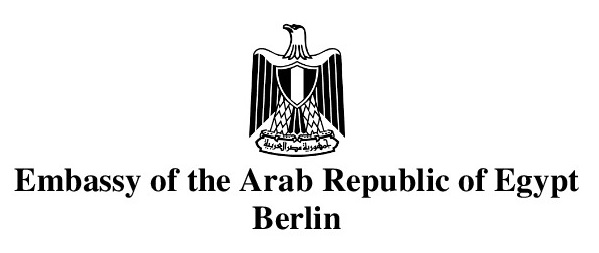 The Embassy of the Arab Republic of Egypt and the Euro-Mediterranean-Arab Association EMA cordially invite you to the following online event:
Salon Diplomatique Egypt
Time: March 31, 2021, 10:00-10:50 A.M. CET
Online (Zoom)
Language: English
Germany is one of the top 5 supplier countries for Egypt. German companies mainly supply machines, chemical products, motor vehicles, and motor vehicle parts, as well as electric and electronic technology to Egypt. The value of German exports to Egypt in 2020 was around 4.015 billion euros. This means that Egypt is consistently one of Germany's most important Arab foreign trade partners. Imports of 1.047 billion euros (2020) are also at a consistently high level – and the trend is increasing. In particular, Germany sources oil, textiles, clothing, and food from Egypt.
H.E. Khaled Galal Abdelhamid, ambassador of the Arab Republic of Egypt to Germany since October 2019, will focus in his keynote address on "Multifaceted Potentials for German SMEs in Egypt". He will further address sustainable economic and investment opportunities and look at growing sectors, new sectors, as well as existing and arising challenges with needed solutions and the potential for Egyptian-German cooperation. The keynote address will be followed by a Q&A session with all participants.
Before his post in Germany, H.E. Abdelhamid was Assistant Foreign Minister and Chief of Cabinet to Foreign Minister Sameh Shoukry. He served previously as Egypt's Permanent Representative to the League of Arab States from 2016 to 2017 and from 2008 to 2016 as Special Assistant to the Executive Secretary at the Comprehensive Nuclear-Test-Ban Treaty Organization (CTBTO) in Vienna.
The Salon Diplomatique will be moderated by EMA Secretary General Clara Gruitrooy. Participants will have the option to share their questions for H.E. Abdelhamid in advance during the registration process.