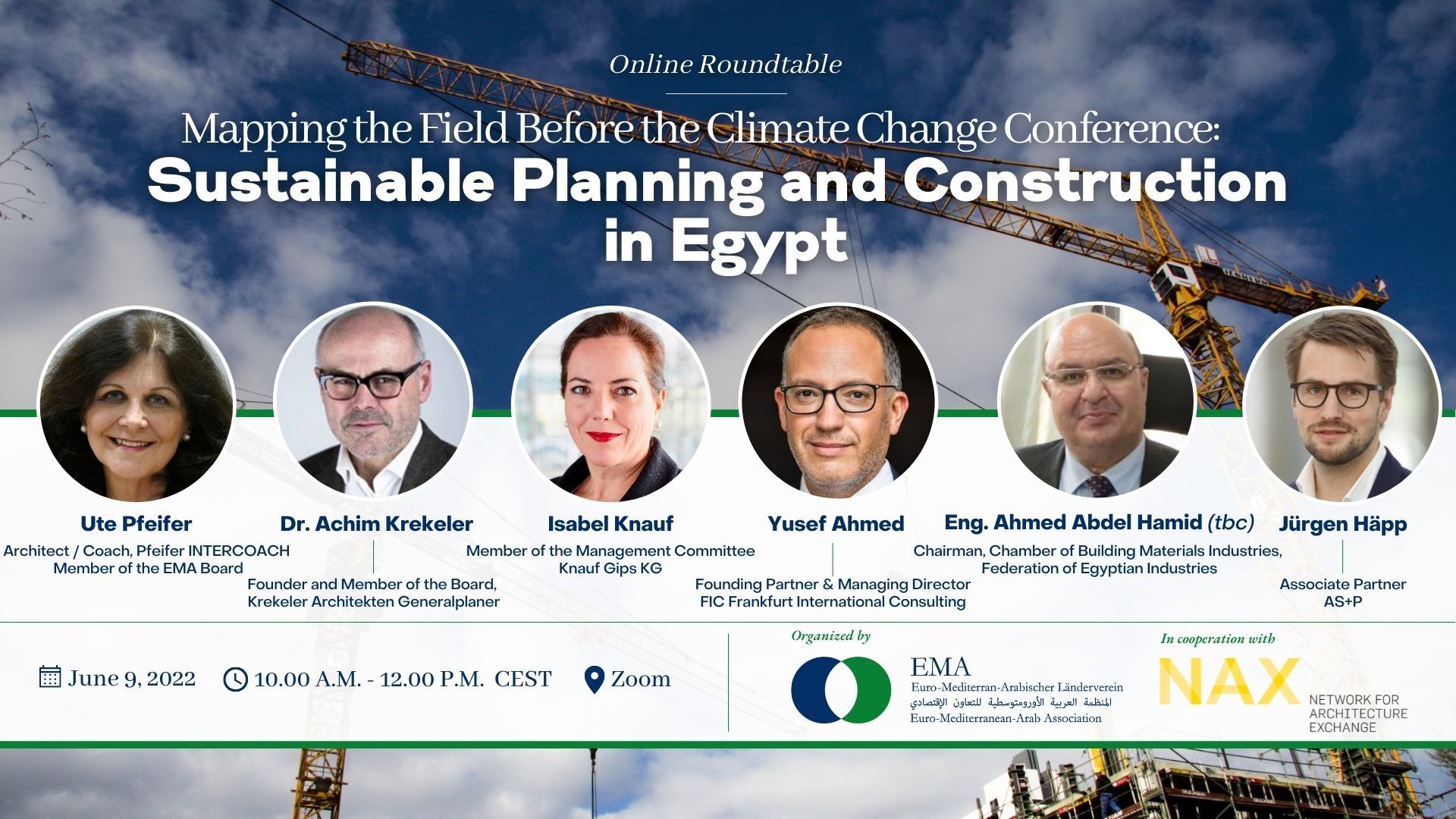 The Euro-Mediterranean Arab Association (EMA) and the Network Architecture Exchange (NAX) would like to invite you to the following exclusive event:
Online Roundtable
Mapping the Field Before the Climate Change Conference:
Sustainable Planning and Construction in Egypt
Zoom | 9 June 2022 | 10.00-12.00 CET
Dozens of new housing projects and entire cities are currently under construction in Egypt. They hold rich opportunities for international development companies, investments and partners.
The online roundtable highlights construction projects and opportunities for German-Egyptian cooperation in the fields of design and construction. In cooperation with the Network Architecture Exchange (NAX) of the German Federal Chamber of Architects, EMA will present best practice examples of responsible, innovative and creative solutions for sustainable urban development thanks to an expert panel of practitioners, consultants and representatives of the construction industry.
Panelists are expected to include:
Isabel Knauf, Member of the Executive Board, Knauf Gips KG
Ahmed Abdel Hamid, Chairman of the Building Materials Industry Chamber, Federation of Egyptian Industries (tbc)
Achim Krekeler, Founder and Member of the Advisory Board, Krekeler Architekten Generalplaner GmbH
Jürgen Häpp, Associate Partner, AS+P
Yusef Ahmed, Founding Partner and Managing Director, FIC Frankfurt International Consulting
The Roundtable will be moderated by EMA Board Member Ute Pfeifer, Architect AKH and Professional Coach, Pfeifer INTERCOACH.
Why should you also participate in the Roundtable?
Networking: Members from the EMA network can get in touch directly with decision-makers from the fields of construction, planning, business and politics in Germany and Egypt to exchange information about their projects and products.
Knowledge: The Roundtable provides you with up-to-date information and insights into investment opportunities, market exploration, strategic projects and business cases.
Market Access: We facilitate your access to relevant decision makers, associations or chambers of commerce and industry.
Business development: The EMA team will be happy to support you after the event in your market exploration or the development of your target market through customised industry analyses or B2B contacts on site. Contact us!
Online Roundtable on Sustainable Construction in Egypt
"Our format is nearly something completely new: a crossover between different areas: it includes representatives from the free economy, public and institutional units, as well as building planners, which I personally consider to be an important voice for the future of our environment", stated Ute Pfeifer – Architect and Managing Director of Pfeifer INTERPLAN, the Board Member of the EMA, and the moderator of the online roundtable organized by the EMA and the Network Architecture Exchange (NAX) on June 9, 2022. Agreeing to Mrs. Pfeifer's opening statement, Claudia Sanders, Project Coordinator of NAX, mentioned that "This is a new cooperation between EMA and NAX and we are very happy and grateful for this opportunity today to get together and discuss the sustainable planning and construction in Egypt".
The online roundtable focused on the economic and architectural possibilities to foster sustainable construction in Egypt. Each of the speakers gave their professional insight on how sustainable construction can become the future of Egypt's urbanization, by highlighting the importance of cooperation. Stressing on the importance of climate protection and the impact of construction and building materials on CO2 emissions, Mrs. Pfeifer opened the floor for the panelists for their presentations.
A sustainable future for Egypt's construction and a new approach to building materials
Isabel Knauf explained the work that the Knauf Group – a multinational family-owned company focusing on construction and building materials – has done so far in Egypt, as well as Knauf's relationship with the country. Mrs. Knauf exposed the new plan and future projects that her company has in relation to sustainable construction in Egypt: the group aims to reduce energy consumption by switching to either electrical heating or hydrogen heating. Thanks to its factories in Egypt, Knauf Group produces sustainable local products. The company is using a new material for construction, which is drywall. To be applied, the latter needs a different approach in producing buildings: "The new projects are forcing a re-thinking of how to build: not just from a sustainable point of view, but also from buildings' earthquake protection point of view" said Ms. Knauf.
The modern way of building cities
Jürgen HäppArchitect, Urban Designer and Associated Partner at Albert Speer & Partner (AS+P), introduced the company's new project for Badya City in Egypt. He highlighted urbanization issues in Egypt, such as dramatic growth in the population; informality of constructions on different scales; high level of traffic, etc. Mr. Häpp explained that in Egypt buildings and neighbourhoods have been constructed in relation to cars and level of traffic; consequently, they are not welcoming spaces for the population. Thus, he asked: "How can we ensure to create a people's place and a living 2040 model which is centred around humans?"
Mr. Häpp showed examples of their projects' planning of future sustainable cities, which aim to be inclusive, eco-friendly, creative and active: "The city needs to be convenient and easy. It needs to be a liveable and safe place for all participants of public life: the old, the young, the abled and disabled". By building a smart and integrated plan, characterised by green and sustainable networks, Mr. Häpp believes that "we can create quite quickly big city pieces on a rational system".
Preservation and modernization of historical buildings
Focusing on the significant value of historical constructions, Achim Krekeler, Founder and Member of the Advisory Board at Krekeler Architekten Generalplaner GmbH, discussed the leading role that Egypt can play in the field of preservation and reconstruction of historical buildings. Thanks to the medieval Islamic structures of historical city centres – which are made of clay and natural stone – the building materials and forms can easily be adapted to climate conditions. Mr. Krekeler highlighted the potential that large stocks of historic buildings have within the country, by affirming that it is important to preserve their historical features of them. "We should learn from the positive examples of the past and preserve the substances for the future".
Useful steps to overcome the challenges that Egypt is experiencing in the construction field
Exposing the drastic environmental impact, due to climate change, on construction and construction methods in Egypt, Ahmed Abdel Hamid, Chairman of the Chamber of Building Materials Industries (CBMI) at the Federation of Egyptian Industries, stated that "In the last twenty years, we have been suffering from the huge use of concrete under-crass, which leads to many problems". In order to face these challenges, Mr. Hamid claimed that it is necessary to move from old cities to new cities; use sustainable materials and have green buildings; to move from a negative to a positive environment. These steps are imperative for allowing Egypt to move towards a sustainable future.
New Cairo reaches the levels of Dubai in modernity and sustainability
Yusef Ahmed, Founding Partner & Managing Director of FIC Frankfurt International, gave his personal and professional insights on his perception of the building activities in Egypt around the rural areas and in relation to the new developments. By bringing the example of New Cairo, he affirmed that he received "modern positive vibes": The city is, in fact, embracing new modern ways of construction in order to welcome the population in a more harmonious way. The city is surrounded by new developments; new foreign schools and institutions; renovated historical buildings. Consequently, New Cairo can be compared to modern developed cities, such as Dubai. He put an emphasis on the investment and business cooperation possibilities for foreign companies within the construction and interior design market.
Following the discussion between the speakers of the roundtable, the interesting insights that they gave encouraged the audience to make some questions in relation to sustainability, modernity, construction, and business. In the end EMA Board Member, Ute Pfeifer, and NAX Project Coordinator, Claudia Sanders thanked the speakers and the audience for their presence and unique contributions.