The 8th German-Moroccan Business Forum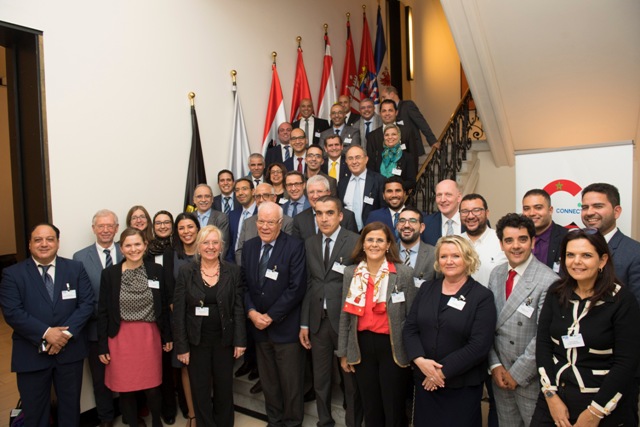 November 13, 2018
9:00 am to 5:30 pm
Landesvertretung der Freien und Hansestadt Hamburg beim Bund Jägerstr. 1, 10117 Berlin
+49 (0)40 609 455 430
MA and the BME, together with their partner associations AMCA, AMICA and ASMEX from Morocco, are organising the German-Moroccan Business Forum on 13 November 2018 with a focus on industry, agribusiness and chemicals. For this purpose, EMA and BME will lead a delegation of 50 high-ranking business people and representatives from business and politics from the above-mentioned areas to Berlin. A list of the Moroccan delegation can be found here.
The forum is not only interesting for logistics experts, buyers and suppliers, but also for all those who want to get to know Morocco as an up-and-coming industrial location or want to expand existing networks.
Thanks to stable high growth rates and low inflation as well as very favourable labour costs, Morocco is the most competitive Arab-African country. A well-trained workforce and the best infrastructure in Africa (The Global Competitiveness Report 2017/2018) make it an attractive location.
The German-Moroccan Business Forum
Morocco as key market for Africa
Industry | Agribusiness | Chemicals
13 November 2018 | 09:00 – 17:30
Representation of the Free and Hanseatic City of Hamburg to the Federal Government
Jägerstr. 1, 10117 Berlin
Some of the EMA partners in Morocco:
The Moroccan buyers' association AMCA (Association Marocaine de la Communauté Achats) helps its members, who are mainly from the mining industry, to optimise their purchases and promotes the exchange of experience. AMCA is driven by the idea of increasingly positioning the function of purchasing in Morocco as a strategic function.
AMICA comprises 160 Moroccan and international companies active in the automotive sector, including as suppliers of cables and car seats. About two thirds of the member companies are medium-sized companies. The association's tasks include developing business opportunities for the automotive sector in Morocco and qualifying and improving export conditions for its members. www.amica.org.ma
The Moroccan export association ASMEX (Association Marocaine des Exportateurs) is a multi-sectoral association that unites all sectors of industry, but through its members has a focus on agriculture/food industry, textiles, crafts, trade and services. Like AMICA, ASMEX promotes the export and integration of Moroccan companies into international supply chains.
For more information on EMA's partners in Morocco, please also visit the website of the Connect Agate project at www.connectachat.de. For further questions the EMA team is at your disposal!
2018-11-13 09:00
2018-11-13 17:30
Europe/London
The 8th German-Moroccan Business Forum
Landesvertretung der Freien und Hansestadt Hamburg beim Bund Jägerstr. 1, 10117 Berlin
save event to calendar