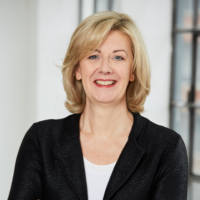 President
CFO, DB Station&Service AG
Heike Fölster is a heavyweight in the German logistics industry. As the Chief Financial Officer of Hamburg Airport, Germanischer Lloyd, BER Airport and currently DB Station & Service AG, she has secured financing for the industry's major players and ensured profitability.
Regions: Germany, Europe and the Mediterranean and Middle East regions.
Topics, networks and areas:
Broad women's network
Good networking in Berlin and Hamburg in politics and business, Rotarian member
Good banking network
Vision:
"1. Increased visibility and thus effectiveness.
2. expansion of the Ouissal program.
I can actively support in both cases to realize these goals."